Geographic boundary data is a requirement for any geographic analysis or map-making. But finding boundary data is often a nightmare.
This is a problem I've faced too, so I thought it might be useful to outline some of the places to look for boundary data:
This site - which leaves a lot to be desired in terms of usability & reliability1 - is the main place the ONS shares their boundary data. What it lacks in user experience it makes up for in breadth and depth - there are a range of boundaries across lots of different types of area, and with a variety of different variations to download.
For a given boundary, there are usually four or five different versions with different resolution. The lower resolution files are generally smaller, but will produce simplified versions of the boundaries rather than the exact boundaries. The more generalised versions are better for things like chloropleth maps where you're comparing lots of different areas, and don't need the boundaries to be exactly right. The exact versions are better for when you show just one area in a lot of detail.
The different versions included are:
Full resolution - extent of the realm
Full resolution - clipped to the coastline
Generalised (20m)
Super generalised (200m)
Ultra generalised (500m)
The "extent of the realm" files include some offshore islands and use the mean low water mark, all the other files use the mean high water mark as a boundary.
Most boundaries can be downloaded in GeoJSON format - you can also get KML, Shapefile or other formats.
One helpful thing the geoportal provides is historic versions - so if you've used local authority data from 2015 you can get a file that includes local authorities that were active at that time.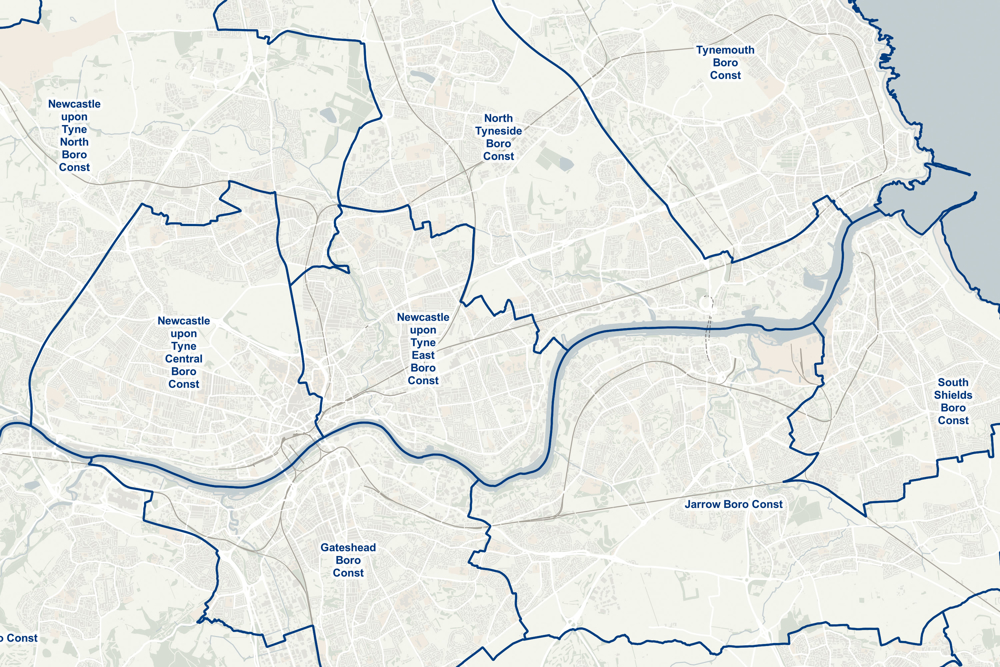 Image © Ordnance Survey
Part of the OS's Open Data products, the Boundary-Line product contains a range of administrative boundaries across Great Britain. The boundaries it includes are:
Civil parishes
Wards
Communities
Districts
Counties
Metropolitan districts
Unitary authorities
Parliamentary constituencies
Electoral divisions
London boroughs
Greater London authorities
Greater London authority assembly constituencies
European electoral regions
Welsh assembly constituencies
Welsh assembly electoral regions
Scottish parliamentary constituencies
Scottish parliamentary electoral regions
Note that it doesn't include ONS-specific statistic geography like Lower Super Output Areas and Middle Super Output Areas. There's lots of other boundary types that aren't included either - like health geography.
A direct link to download Boundary-Line can be found on the OS Data Hub. You can get it in a few different formats - GeoPackage is probably the most versatile. It's quite a big file - over 600Mb - and you'll probably need some specialist GIS software (like QGIS) to use it.
The data is available under the Open Government Licence, so you can use it for any purpose.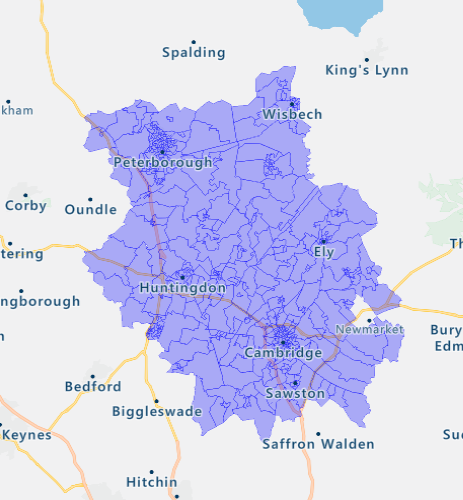 This is a repository of boundaries that I've put together, using data from the ONS geoportal.
The aim of this is to produce 3 GeoJSON files for each Local Authority, Combined Authority or Region. Each file shows the boundaries of either Lower Super Output Areas (LSOA), Middle Super Output Areas (MSOA) or Wards within that area. They're meant to help people who want to map data in a small area. They use a fairly high resolution so you can pick out detail in the areas.
If you want to combile GeoJSON files together into one file, you can use my GeoJSON Merge Tool.
Other Resources
What's missing?
I'd love to hear from you if there are other resources you find useful - I'm sure to have missed some! I'm particularly conscious that lots of the resources cover only either England and Wales or Great Britain, and are harder to find for Northern Ireland.
---
The site wasn't working at all when I wrote this blog post! ↩